SCANDINAVIAN ULTRA-POWER TRIO
Avanto 2006 provides audiences with the rare opportunity to see the Scandinavian noise supergroup Nash Kontroll perform live. The trio's debut album Your Left Hand Just Exploded (2005) has been praised by critics worldwide. Nash Kontroll is Dror Feiler, Mats Gustafsson and Lasse Marhaug.
Avanto Club in Kuudes linja on Friday, 17 November, 10 pm to 4 am.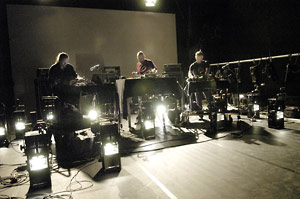 Nash Kontroll
photo: Ann Iren Odeby
Hailing originally from Israel, Dror Feiler (1951–) has been active on the Swedish music scene since 1973. Feiler studied musicology at the University of Stockholm and composition at the Royal Music Academy. His impressive body of work includes compositions for solo instruments and symphonies as well as electro-acoustic music. Several of these works were commissions for prominent international modern music festivals. Working with woodwinds and electronics, Feiler has also been active on the improvised music scene. In addition, he has performed and recorded with several international musicians as well as with his own groups called Lokomotiv Konkret and Too Much Too Soon Orchestra. Together with his wife, Gunilla Sköld-Feiler, he has also worked with visual arts. The couple's most infamous creation to date has been the installation Snow White and the Madness of Truth, staged at the Museum of National Antiquities in Stockholm and subject to international controversy in January 2004.
The reed virtuoso Mats Gustafsson (1964–) is most likely Sweden's best-known and most influential free jazz rooted musician. Since the 1980s, Gustafsson has performed with practically all of improvised music's international artists of note. His impressive discography includes collaborations with artists such as Sonic Youth and Jim O'Rourke. Gustafsson's playing is fierce, physical and explosively powerful, yet tempered with a sense of dynamics and variation. Over the past few years, he has added electronics to his repertoire, an addition that mirrors the expansion of his musical sphere to include all shades of contemporary music, including noise and underground rock.
During the past decade, Lasse Marhaug (1974–) has established a firm reputation as a prime mover in Norway's experimental music circles. Self-taught, Marhaug started experimenting with tape music in the early 1990s and has over the years built a discography of more than one hundred recordings. His musical style ranges from austere and quiet soundscapes to colourful noise fireworks. What binds these works together is his passion for experimentation and nonchalant attitude towards musical barriers. Marhaug was recently invited to become a member of the Norwegian association of composers. Additionally, he has composed for film and dance. He has collaborated with artists such as Merzbow and Lee Ranaldo and performed internationally as a member of various line-ups, in contexts ranging from improvised free jazz to heavy rock.