AVANTOSCOPE 2006 (Kiasma Theatre)
Salise Hughes: Strange Weather (USA, 2006, 2'30'')
The Seattle based filmmaker draws upon a range of manipulated found footage, covering science demonstrations, flooded houses, winter sports and Buddhist contemplation.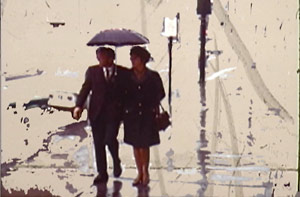 Salise Hughes: Strange Weather (2006)

Björn Kämmerer: Escalator (Austria, 2006, 2'50'')
Using black and white found footage of a boy climbing and descending a flight of stairs, this short sequence, rigorously edited and closely matched to its soundtrack, revels in insistent repetition.
Sami van Ingen: The Sequent of Hanna Ave. (Finland, 2006, 4'30'')
Long established Finnish filmmaker Sami van Ingen combines found footage, hand processing and digital technology in this 35 mm Cinemascope work.
Dan Baker: Transaension (USA, 2006, 6'15'')
Based in Boulder, Colorado, Baker has subjected his footage to direct colour treatments and an atmospheric, meditative pacing.
Eva Olsson: Different Viewpoint = Different Scenerie (Sweden, 2006, 2'10'')
Succinct animation from this experienced video artist, who has studied in Britain, Japan and Sweden. Sometimes, a person's position can offer alternative perspectives…
NotTheSameColour: Bye Bye One: (Austria, 2006, 4'50'')
This electronic abstraction, from the collaborative team of Vienna based Billy Roisz and dieb13, was partly created out of the distorted effects from an old Panasonic mixing desk.
Anna Kravchenia: Dreisamkeit (Russia, 2006, 6'45'')
Originated with black-and-white 16 mm, this hand processed footage depicting a cold and bleak landscape is accompanied by a sparse and atmospheric soundtrack.
Thomas Bogaert: I Am a Star and I Come and I Go (Belgium, 2005, 2'15'')
1700 silver paint drawings went into this rotoscope animation, reworking a classic dance sequence from the 1977 feature Saturday Night Fever, complete with a backwards-running soundtrack.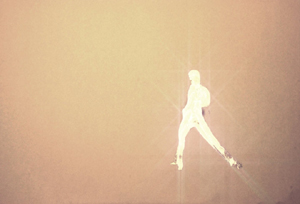 Thomas Bogaert: I Am a Star and I Come and I Go (2005)

Ian Helliwell: Sun Tower 70 (Great Britain, 2006, 3'05'')
Recent Super-8 footage shot mostly in Osaka at the site of Expo 70 and then transformed with the ink from a black marker, giving the whole film a cracked mosaic texture. Simple self-built Hellitron circuits add a layer of electronic sounds.
Andrea Bussmann: Unfinished Disposal (Canada, 2006, 5'40'')
In her first film, this Toronto based social anthropology student combines, treats and recontextualises appropriated and recycled images.
Mika Taanila: The Zone of Total Eclipse (Finland, 2006, 6')
Helsinki film stalwart Taanila has transformed this found footage of an arcane 1945 astronomical experiment in Northern Finland into an expanded cinematic eclipse for two shifting 16 mm projectors.
Sami van Ingen: Dimly Lit Room (Finland, 2006, 6')
An ongoing expanded cinema presentation. The image on the screen is manipulated by the filmmaker/projectionist, altering the lens position and switching gates according to a loose sequence of prearranged moves. The overall effect brings a new transparency to the cinema projection situation.
Jan Ijäs: A Film for Three Men and Industrial Elevator (Finland, 2005, 2'30'')
A film of simple and single-minded repetition that generates humour as well as kinetic energy in its well judged running time.
Gregoire Rousseau: Visual Waves (Finland, 2006, 4'30'')
Equipment at the Tuulanauhat Laboratory has been utilised to create abstract video imagery from an analogue input. The sound is converted digitally and the video output is a directly synchronised visualisation.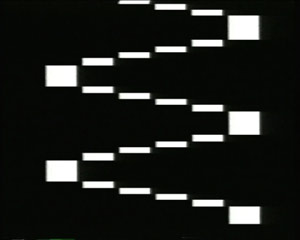 Gregoire Rousseau: Visual Waves (2006)

Salise Hughes: Tidal Wave (USA, 2006, 1'20'')
Images from found footage… faces and bodies filled with water… a terse and ominous film inspired by the dreams of its narrator, Larry Crist.
Ian Helliwell: Dash Dot (Great Britain, 2006, 55'')
A completely cameraless hand-scratched and -coloured film, made by direct animation onto black super-8. All the shapes were scratched in using a draughtsman's stencil, and the colour added with felt tip pens.
Björn Kämmerer / Karoline Meiberger: Aim (Austria, 2005, 2'30'')
A thwarted, one-sided gunfight, whereby a dramatic western movie scene is undermined and given a layer of unexpected humour through deft editing control.
total 62 min.
Kiasma Theatre on Saturday, 18 November at 4:30 pm.