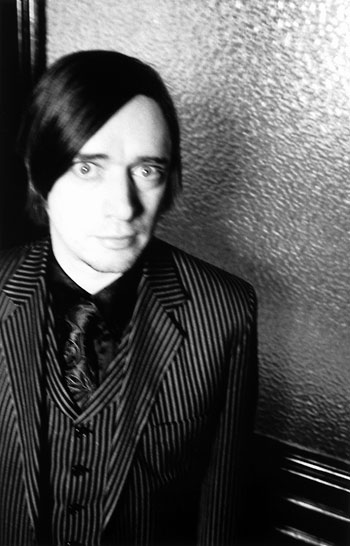 photo by Oliver Gretscher
Alchemy of the human voice
Blixa Bargeld (1959–) is the frontman and lead singer of the legendary industrial band Einstürzende Neubauten. He is also known as the guitarist of Nick Cave and The Bad Seeds for the past two decades (1984–2003), but has also made an impressive solo career as an actor both on stage and film, working with directors such as Heiner Müller and Wim Wenders, as well as a composer, author, photographer, lecturer and a performance artist.
Einstürzende Neubauten was born out of a Dadaist movement called Die Geniale Dilletanten in the post-punk atmosphere of the early 1980s, and has already been active for a quarter of a century. The band became initially infamous for its uncompromising noise music and its idiosyncratic choice of instruments, which included industrial tools, percussion instruments made of scrap metal and home-brewed electronic instruments. They also utilised heavy equipment such as power drills, and their nihilistic methods became notorious when their 1984 performance at the Institute of Contemporary Arts in London ended in a riot, following the band's demolition of the stage with pneumatic drills and throwing of bottles into a cement mixer, which showered the crowd with broken glass. The name of the band ("Collapsing New Buildings") is a reference to the Berlin Kongresshalle, which had collapsed in early 1980, and had, for the Dadaists, represented the worst excesses of the brutalist architecture of the 1970s. Over the years, their fierce industrial sound has developed in a slightly more lyrical and somewhat melancholy direction. In addition to the non-instruments that have become their trademark, the Neubauten albums of the new millennium have also featured traditional rock instruments as well as new experiments such as the sound of dried linden leaves. During the recent years, the musicians have, together and alone, participated in various dance and theatrical productions.
In Avanto, Blixa Bargeld takes the stage as a sound and performance artist. Rede/Speech is a spoken word performance, which explores the boundaries between language and music. The technical set-up is minimal: a microphone, a couple of effect pedals and a mixing panel with Boris Wilsdorf at the controls opposite the stage. Using this simple equipment, Bargeld constructs intricate and incredibly dynamic acoustic architectures and vocal pieces, which may sometimes convey a story, but may just as well be based on a single sentence, word or even a syllable. The performance relies much on improvisation and Bargeld's powerful presence on stage. The structure of the performance has not been planned carefully beforehand, and no two performances are alike; each time, Bargeld steps on the stage with a small notebook containing a number of concepts and notes to improvise on. This element of unpredictability turns the seemingly simple performance into an intense and impressive glimpse into the laboratory of a supreme alchemist of the human voice.
Antti Autio
Blixa Bargeld will perform at the Kiasma Theatre on Friday, November 18th at 19:00.