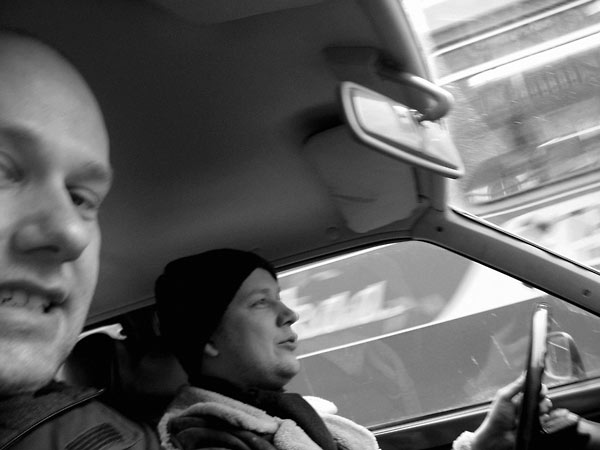 A cathartic sound of pure freedom
According to Tommi Keränen, the Finnish half of this duo, their moniker refers to a place near his home town in the eastern region of Kainuu in Finland (the name of which can, literally, be translated as Testicle Hazard), and, on the other hand and on the level of imagery, to the like-minded names of old grindcore bands, as Keränen and the Norwegian member of the duo, Lasse Marhaug, share a spirit of womb-to-tomb metal fandom.The Avanto crew initially thought the duo was a laptop project, and that Testicle Hazard was a reference to the research on how the heat radiation of a laptop computer held on one's lap while sitting in, for example, an airplane, affects male fertility. We were, however, mistaken: Testicle Hazard plays analogue noise with no computers. "It's honest, rough-edged noise without any profound concepts or external purposes (meaning: no gas masks, no concentration camps, no technology, no politics or hippie ideals), just a cathartic sound of pure freedom", as Keränen himself describes their music.
The performance in Avanto is their debut show. Lasse Marhaug is one of the most prominent and active figures of the international noise underground. In the course of the past 15 years, he has appeared on more than one hundred releases on cassettes, vinyl records and CDs, and has put out more than twenty albums himself. The list of collaborators in his numerous studio and live projects includes many names familiar from recent editions of Avanto (Merzbow, Leif Elggren, Maja Ratkje of Fe-mail, Otomo Yoshihide, Sachiko M, Pita, Ilios, Russel Haswell) as well as other notable artists familiar to Finnish concert audiences (Lee Ranaldo of Sonic Youth, Mats Gustafsson, Paal Nilssen-Love, Dror Feiler, Francisco López, Kevin Drumm, Kouhei Matsunaga).
Tommi Keränen is one of the central figures of the noise/improv scene in Helsinki. He has been the most active organiser of experimental music concerts during the recent years, but has simultaneously worked on his own expression. His first recording came out earlier this year on the Japanese Monotype label. Keränen's first solo performances a few years ago were indeed carrier out using a laptop, but since then Keränen has moved towards a more physical approach, where feedback and the use of contact microphones on scrap metal play a central role. A similar shift has taken place in the field of experimental music more generally as well. Although computers are present in nearly all aspects of making music today, very few live artists have succeeded in developing a fully satisfying method for depending only on computers in their performances; instead, they usually employ – in one way or another – some less rigid, more sensitive instruments or "interfaces" than the mouse.
Testicle Hazard will perform at the Avanto Nightclub in Gloria on Saturday, November 19th.