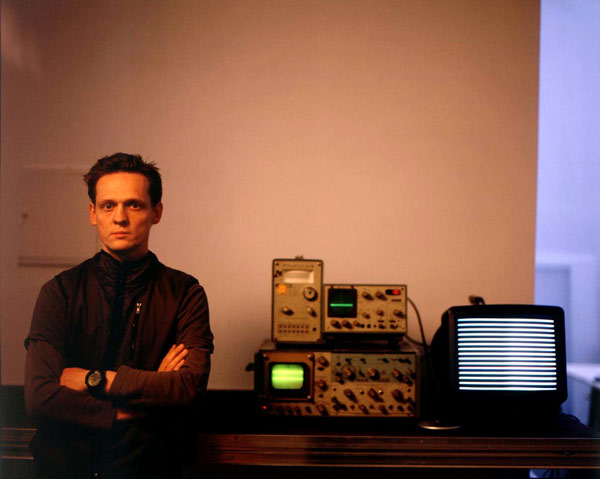 Karl-Marx-Stadt Boogie Woogie
Alva Noto a.k.a. Carsten Nicolai, who grew up in Karl-Marx-Stadt (former and present Chemnitz) and lives in Berlin, continues the glorious tradition of German rhythm music. His music follows in the venerable footsteps of the angular motorik groove of German experimental rock of the 70's, the perfectionist Mensch-Maschin rhythms of Kraftwerk, and the 90's minimal techno from Cologne, whose "Swinging Schaffel" was the in-sound in European dance music a couple of years ago. Sharing a deep awareness of their own cultural heritage, all of the above also take for granted that it would make no sense to even try to emulate the American grooves of funk or soul – unlike what happens in smaller music cultures such as Finland's. Abstracted into pinpoint-sharp percussive peaks and subsonic boom's, Nicolai's post-techno soundscapes have turned out to have been an immense influence on musicians all over the globe, just like the other German innovators before him. New German-American fusions like Detroit techno are yet to pop up, though.
Carsten Nicolai is also a very productive contemporary artist. His M.O. is making geometric-abstract, extremely minimalist, even downright sterile installations and sound art works, which often render a wide variety of physical phenomena – ranging from bit streams to the geometry of a snowflake – visible or audible. When the sound art-themed issue of Resonance magazine compared his interest in science to that of Carl-Michael von Hausswolff's in paranormal phenomena, this is how he commented on the emotional expression of his work: "My work is much more based on mechanical ideas, therefore I try to avoid artistic mystification. The mechanism of my works is clear enough for you to follow their logic. Of course, there is an emotional sensibility to it, but that comes after."
These two facets come together in Alva Noto's live concerts. The Wire magazine critic Kodwo Eshun was right on the money writing: "Nicolai's influence on the sound art scene hasn't been that great - the world only needs one audiovisual maestro of mikrosonik kontrapoint and most of his all too sterile followers can't hear the funk from the clicks. So tonight was an object lesson in how to rock a party. For 40 minutes Nicolai killed the crowd (a compliment, by the way) with sternum-vibrating bass, typewriter clicks and teardrop tones, all rolled out on a grid as rhythmatically taut, toned, pared and pointed as an updated Broadway Boogie Woogie. Nicolai is a master of visual subtraction and addition. His signature black and white horizontal/vertical holds started off as simple as ABC and inexorably built up and broke down with the ineluctable magic of retinal mathematics. At one point, Nicolai dropped such a club banger, I began to hallucinate the chorus from N*E*R*D's Truth Or Dare. When I questioned him on this, the clean faced Nicolai laughed, 'I'm doing some sonic cleaning', then confessed that the track - from his last CD Transform - had ripped its rhythmic grid from Destiny's Child's Bug A Boo." We are looking forward to what clearly promises to rank among the most impressive maschin-musik concerts in the history of Avanto!
Alva Noto will perform at the Avanto Nightclub in in Gloria on Saturday 19 November. Carsten Nicolai's video Spray will be screened as a part of the Avantoscope 2 programme in the Kiasma theatre on Saturday 19 November at 19.00 hours.