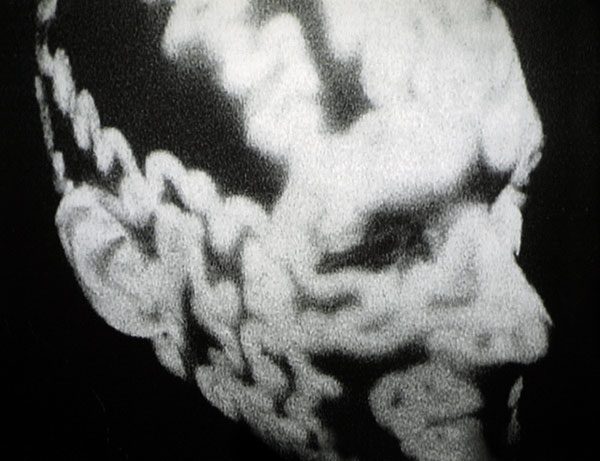 The cloud of unknowing
A human head revolving slowly around its axis guides our interpretations straight to the heart of the matter: the mysteries of the mind. As a viewing experience, the black and white image – especially in widescreen projection – is inexplicably unsettling. On one hand, the atmosphere is clinical and sterile, reminding the viewer of X-ray photography or ultrasonography; but, on the other hand, the grain of the film surface and the dust and scratches left on it by the development process lend it an organic and warm quality. The Cloud of Unknowing, a video installation created by Hannu Karjalainen using a multi-phased mixed technique, is one of the strangest works brought into being by means of moving image in Finland in recent memory. With its well-thought-out, minimalistic style, it seems to engage its viewer with an unhealthily large dose of the eternal questions of Avanto: What would a photorealistic image of the human consciousness look like? Are we dealing with some mysterious medical operation? Who is screening our brains and thoughts? Why does the man look so sorrowful? What are we afraid of? Who can we open up to?
The Cloud of Unknowing by Hannu Karjalainen at MUU Gallery from November 18th to 27th. Open Tue–Fri 12–17, Sat–Sun 12–16.