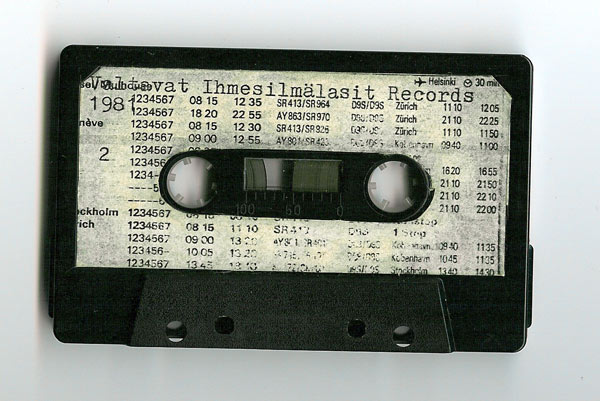 The Helsinki based Swissair's (Jari Härkönen, Pietari Koskinen, Mikko Kuussaari, Anton Nikkilä, Juha Soivio, Mika Taanila) contribution to music history was limited to four cassette albums on their own Valtavat Ihmesilmälasit Records label and a few slipshod gigs in the cities of Helsinki and Kotka in the early 80s. Influenced by the sounds of punk and post punk (The Flying Lizards, This Heat, Mekons...) they also made a bunch of Super 8 films while still in school, all of which shared the characteristic of not having any discernible aim or verbally definable idea. Hermafrodiitit ("Hermaphrodites"), an oddball summing up of these edited-in-camera reels, will see its public premiere at Avanto. The soundtrack consists of some dynamite tracks from Swissair's cassette albums.
Swissair: Hermafrodiitit (1979-1984, 2 x super 8 mm, 20 min.)
Hermafrodiitit will be screened at the Avanto Nightclub at Gloria on Saturday, November 19th.