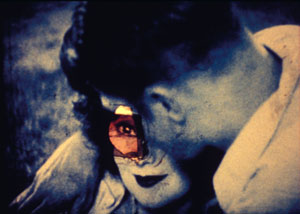 Lauren Cook: Altitude Zero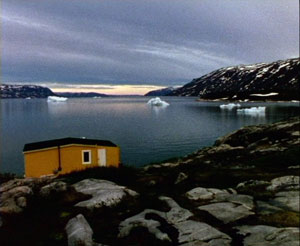 Aurelie Doutre: Disko Bay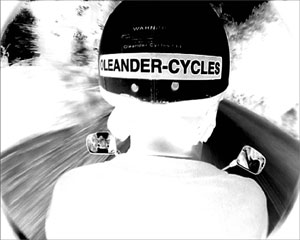 Barbara Doser & Kurt Hofstetter: You Breathe Life Into My Bosom, Oleander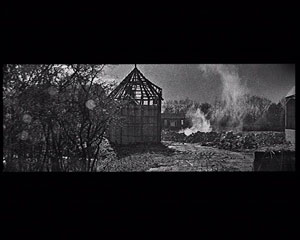 Ben Rivers: The Hyrcynium Wood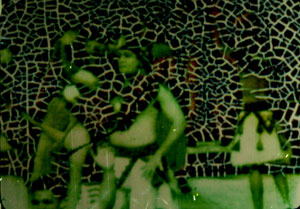 Wenhua Shi: Endless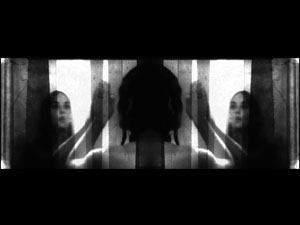 Siegfried A. Fruhauf: Mirror Mechanics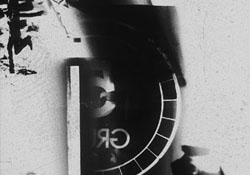 Peter Tscherkassky: Instructions for a Light and Sound Machine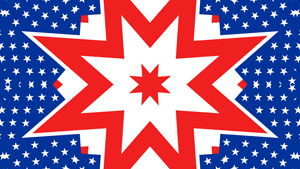 Max Hattler: Collision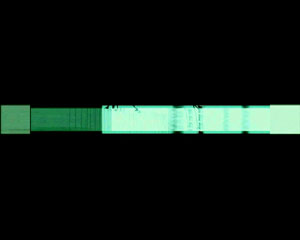 Michaela Schwentner: Tester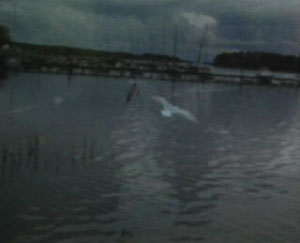 Pekka Sassi: Bird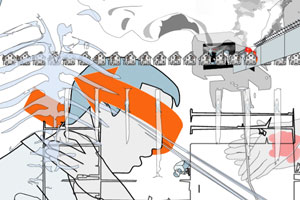 Chris Coleman: Modern Times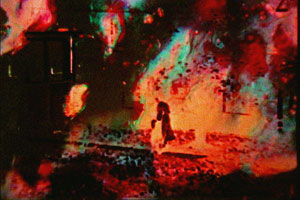 Louise Bourque: L`Eclat du Mal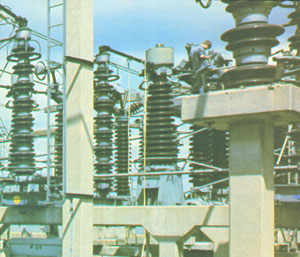 James Holcombe: Harrow Substation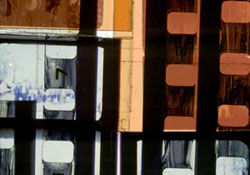 Frédérique Devaux: K [Desert]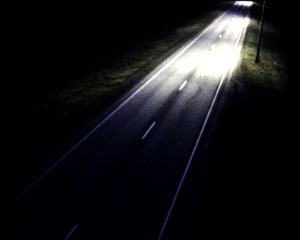 Dariusz Krzeczek: Luukkaankangas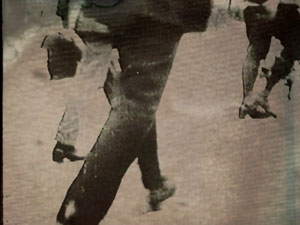 Kirsten Winter & Gerd Gockell: Restored Weekend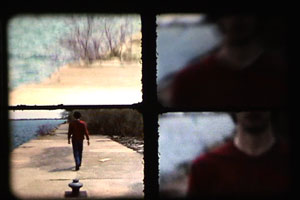 Chris Kennedy: 4x8x3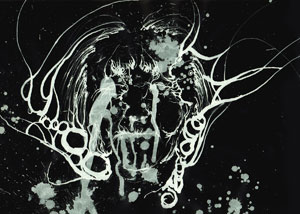 Shon Kim: Latent Sorrow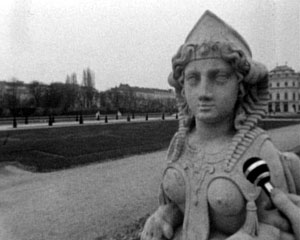 Matt Hulse: Replay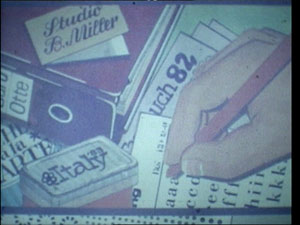 Ian Helliwell: Get Set
Avantoscope 1
Lauren Cook: Altitude Zero (2004, USA, 5 min)
Studying film and video production at the University of Iowa, Cook dissects and reconstructs layers of film surrounding legendary Atlantic crossing pilot Amelia Earhart.
Aurelie Doutre: Disko Bay (2004, Switzerland, 11.5 min)
Using time lapse to capture the stunning ice fields of Greenland, Doutre also cuts in hand painted animation sequences for this engaging study of frozen land and seascapes. Born in France and living in Geneva, she is active as cinema projectionist and super-8 exponent.
Nancy Jean Tucker: Returning (2005, USA, 3.5 min)
Living in Los Angeles, Tucker works in the fields of photography, television, film and animation. `Returning` features characters and events portrayed with small details, revealing the beauty, sadness and futility of life.
Barbara Doser & Kurt Hofstetter: You Breathe Life Into My Bosom, Oleander (2005, Austria, 10 min)
The 2 Vienna based artists have collaborated on a number of films together; this their most recent joint work using audio and video feedback, continues a strong line of mainly abstract, monochrome films developed since the mid 1990s, and collected together under the title `Para Structures`.
Ben Rivers: The Hyrcynium Wood (2005, Great Britain, 3 min)
Co-founder of Brighton`s Cinematheque, Ben regularly shoots and hand processes b&w 16mm film, as in this newly completed work shot in `scope in Sussex woods and abandoned farms. Post production was carried out on computer to salvage the results from the ruined film negative.
Mika Taanila: Optical Sound (2005, Finland, 6 min)
One of Finland`s filmic prime movers and Avanto co-founder, Taanila has based this work on the remarkable `Symphony #2 for Dot Matrix Printers` by Canadian duo [the user]. All the sounds were generated only by the printers themselves, operating in unison as an automatic orchestra.
Wenhua Shi: Endless (2005, USA/China/Taiwan, 9.5 min)
With training in medicine, Wenhua Shi began working with sound and film in his hometown of Wuhan, China. He moved to the USA in 2000 to study at the University of Colorado under Stan Brakhage.
Siegfried A Fruhauf: Mirror Mechanics (2005, Austria, 7.5 min)
Working with film and video since 1993, Fruhauf has subjected short scenes to complex mirrored transformations, using multiple superimpositions, repetition and distortion. Jürgen Gruber has provided a fitting soundtrack with brooding electronics and feedback.
Avantoscope 1 will be screened in the Kiasma Theatre on Friday 18 November at 14.00 hours.
Avantoscope 2
Peter Tscherkassky: Instructions for a Light and Sound Machine (2005, Austria, 17 min)
Using spaghetti western sequences, Vienna born Tscherkassky fragments and reassembles shots to create and disrupt cinematic tensions. Experimenting with film material for over 2 decades, his stunning `Outer Space` from 1999, was a multiple award winner.
Max Hattler: Collision (2005, Great Britain, 2.5 min)
London based and studying at the Royal College of Art, Hattler has created a pithy animation based on the interweaving and metamorphosis of the colours and patterns of national flags.
Michaela Schwentner: Tester (2005, Austria, 5.5 min)
Teaching at the University of Arts, Linz, Schwentner has worked in different environments including galleries, concert halls and club spaces. Here she has translated the music of Radian into an abstract music video, using evolving square and rectangular windows.
Pekka Sassi: Bird (2004, Finland, 2.5 min)
A consistent Avanto contributor and a leading player in Helsinki`s experimental film scene, Sassi`s prolific output has seen him working with film, video and installation based art. This film features loops and superimpositions, and a powerful electronic soundtrack.
Carsten Nicolai: Spray (2005, Germany, 8 min)
Berlin based artist and Raster-Noton label co-founder, Nicolai has regularly explored the flow of micro information in his work. Derived from his installation `Spray`, the video incorporates references to intelligence gathering and the Stealth bomber.
Chris Coleman: Modern Times (2004, USA, 3 min)
Using the type of flat graphic style found in government safety brochures, this interpretation of the Chaplin theme looks at industrialised societies` problems from a 21st century perspective. In the age of infotainment and 24 hour surveillance, confusion and anxiety are starkly depicted.
Louise Bourque: L`Eclat du Mal (2005, Canada, 6 min)
Boston based French-Canadian, Bourque creates intensely personal hand crafted works, often incorporating and manipulating old family home movies, found footage and newly shot film.
James Holcombe: Harrow Substation (2005, Great Britain, 3.5 min)
Shooting invariably with super-8, and running regular workshops in hand processing, James is London based and working at the no.w.here film production centre. Here he applies his kinetic stop frame style to an electricity substation, in this blow-up to 16mm with Wasp synth soundtrack.
Dirk de Bruyn: 2nd Hand Cinema (2004, Australia, 6 min)
Dirk has worked consistently with experimental film over the last 30 years, and was a member of the Melbourne Super 8 Film Group. Here he celebrates cinematic detritus; discarded films, bits of soundtrack – all combined with direct animation, using stamps, food dyes and scratched and drawn on shapes.
Avantoscope 2 will be screened in the Kiasma Theatre on Saturday 19 November at 19.00 hours.
Avantoscope 3
Frédérique Devaux: K [Desert] (2004, France, 5 min)
Devaux`s films regularly include direct manipulation of the film stock, using 8, 16 and 35mm gauges. With hands-on methods such as drawing, gluing and stitching, the results are further processed through detailed optical printing.
Dariusz Krzeczek: Luukkaankangas (2004, Austria, 7 min)
A simple view of a stretch of road, appearing on 12,000 webcam photographs taken by the Finnish highways administration, is transformed through the compression of time and variations in light and weather patterns.
Kirsten Winter & Gerd Gockell: Restored Weekend (2004, Germany/Switzerland, 5 min)
This collaboration represents a "rediscovered" visual accompaniment to Walter Ruttmann`s groundbreaking 1930 audio collage `Weekend`, (presented at Avanto `04 in `Film Without Film`).
Chris Kennedy: 4x8x3 (2004, Canada, 3 min)
A stalwart of the Toronto Images Festival, Kennedy here makes interesting use of unsplit standard 8mm movie film, played back via 16mm projection for 4 way multi-image action.
Shon Kim: Latent Sorrow (2005, USA, 3.5 min)
An animated fusion of abstraction with character and narrative elements, and a certain macabre sensibility…
Matt Hulse: Replay (2005, Great Britain, 9 min)
The British artist takes his super-8 camera and musicassette onto the streets of Vienna and Dresden to record this episodic journey. A special commission from the Rotterdam Film Festival, responding directly to the soundtrack by David Shea.
Ian Helliwell: Get Set (2005, Great Britain, 3.5 min)
A direct animation film using clear super-8 covered with ink and overlaid with various Letraset shapes. Made over a period of 3 years, Helliwell has employed his home-made electronic generators and an improvisation on toy organ, for the soundtrack.
Augustin Gimel: Le Postulat d`Euclide (2004, Germany, 10 min)
Paris based Gimel`s films are characterised by strong technical realisation and a natural interweaving of film and video technologies.
Tina Frank: Chronomops (2004, Austria, 2 min)
Accompanied by music from General Magic, `Chronomops` is a vibrant abstract field of multicoloured bars and lines constantly in motion, created with precision and admirable brevity.
Witkacy: Kuleshov`s Cabinet (2005, Canada, 5 min)
From a selection of 4 found footage films, Allan Brown aka Witkacy, rhythmically edits and tightly connects image and sound. The title of the film refers to Lev Kuleshov, whose theory states that successive but unrelated images are connected and given meaning by the viewer.
Avantoscope 3 will be screened in the Kiasma Theatre on Sunday 20 November at 15.00 hours.
Avantoscope programming and programme notes: Ian Helliwell

Augustin Gimel: Le Postulat d`Euclide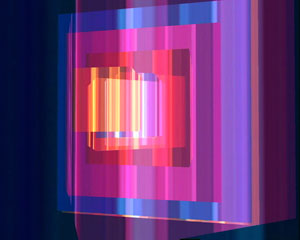 Tina Frank: Chronomops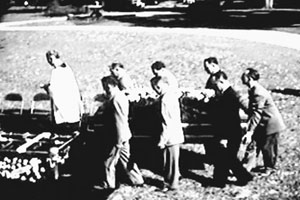 Witkacy: Kuleshov`s Cabinet